Market wavers as coronavirus spreads
If the outbreak isn't contained, global economic growth could slow
SLGI Portfolio Management Team
Earlier in January, Chinese officials tied the outbreak of pneumonia in Wuhan, a port city of 11 million people, to the coronavirus virus. It belongs to the same family of viruses as SARS (Severe Acute Respiratory Syndrome) which killed 774 people in 2003. And as it did during the SARS crisis, the market has sold off and rebounded in recent days as it priced in the damaging impact that a repeat of that epidemic could have on the global economy.
Indeed, the SARS crisis reduced global output by about US$40 billion with China's GDP falling 1% in 2003. SARS touched almost every area of the economy, with people unwilling or unable to travel for leisure or work. While it's too early to tell what the economic impact of the coronavirus outbreak will be, in 2003 China accounted for 6% world GDP and about 15% today. As a result, a severe slowdown in China's economy could have a greater negative impact than it did during the SARS crisis.
How will markets ultimately react this growing crisis? If China fails to contain the virus, and the World Health Organization declares a global health emergency, we could see another down leg as the economic impact grows. The S&P 500 is now flat for the year and large-cap Chinese equities fell 10% over five days. As well, bond yields retreated with the market anticipating a potential negative effect on growth.
Ultimately, the coronavirus virus will be contained. And as the chart below illustrates, while the market sold-off sharply during the SARS epidemic, it quickly rebounded as the outbreak was brought under control.
Would today's market repeat the SARS bounce back?
The S&P 500 tumbled 14% over two months in early 2003, followed by a 12% snap-back rally in just 10 days (Chart below.)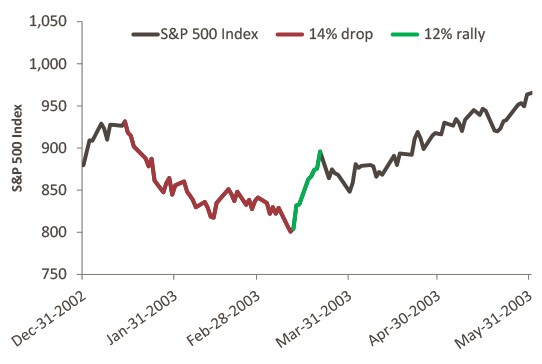 Source: Bloomberg.
Comparing outbreaks: SARS vs. the coronavirus
To slow the spread of the virus 45 million people in China are under quarantine

*Data as of January 27, 2020. Source: U.S. Centers for Disease Control and Prevention:
---
This commentary contains information in summary form for your convenience, published by Sun Life Global Investments (Canada) Inc. Although this commentary has been prepared from sources believed to be reliable, Sun Life Global Investments (Canada) Inc. cannot guarantee its accuracy or completeness and is intended to provide you with general information and should not be construed as providing specific individual financial, investment, tax, or legal advice. The views expressed are those of the author and not necessarily the opinions of Sun Life Global Investments (Canada) Inc. Please note, any future or forward looking statements contained in this commentary are speculative in nature and cannot be relied upon. There is no guarantee that these events will occur or in the manner speculated. Please speak with your professional advisors before acting on any information contained in this commentary.
©Sun Life Global Investments (Canada) Inc., 2020. Sun Life Global Investments (Canada) Inc. is a member of the Sun Life Financial group of companies.