What my first job pumping gas in Saskatchewan taught me about money
By Rick Headrick, President, Sun Life Global Investments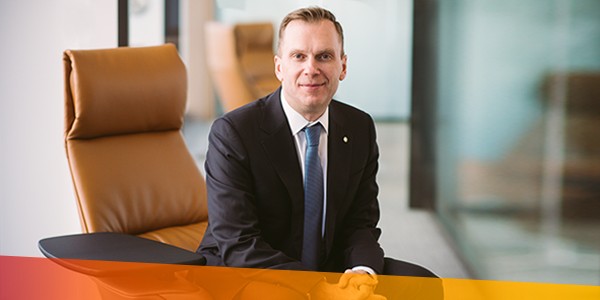 Whether it is delivering newspapers, waiting tables – or in my case, pumping gas – first jobs have a way of instilling some valuable lessons.
I started working at my dad's full-service gas station when I was 12 years old. I learned how to manage my time, work hard and interact with customers. We lived in a small town with a couple of gas stations so I had to give customers a good reason to come back by giving friendly service.  As small business owners, my parents really ingrained in me that no one is entitled to money – you need to earn it.
I wanted to hear from others in the investment community about their first jobs so I put the question out to my LinkedIn network. Advisors across Canada chimed in with their stories. It is fascinating to see how first jobs give us values that span an entire career. For many, it's the first brush we have with basic money management.
"My first job was cutting grass and providing customer service at a driving range, batting cage and go-cart place," said Katelyn Aitcheson, a Sun Life Financial advisor in Stratford, Ontario. "I learned to make change and quickly add in my head. I also learned cash-out procedures at the end of the day and the importance of balancing day-end numbers."
Here are a few other themes that emerged from the discussion:
Pay attention to detail. Track your spending and get in the habit of saving money early on. Sean Davidson, a Sun Life Financial advisor in Hamilton, Ontario, learned about saving from wanting custom goalie pads to match the colour of his team. His father reluctantly purchased them on the condition he pay 50% back – at least 10% from his monthly paycheque from delivering newspapers. "I used to make lump sum payments with my tip money to repay the loan quicker," said Davidson. "Needless to say, I learned a ton about budgeting and saving all from wanting to be the best and most fashionable 12-year-old hockey goalie I could be!"

Lina Simpson's first job at Midland Doherty Financial reinforced the importance of working with engaged clients. "In conversations with many co-staff there, I learned that those who were most successful were the ones who always knew what was going on with their money," said Simpson, an advisor at Kabis and Associates Inc.
Be resourceful. Many first jobs teach the importance of thinking on your feet and finding a way to propose solutions. Steve Bentley, Financial Life Planner and Principal CFP at Northern River Financial in Waterloo, Ontario, used his first job to put himself through university. "At 17, I joined the Army Reserves and went to the Royal Military College at age 18. It was a way to make income, give back to the community and get an education while contributing to the household as well," he said.
Attitude is important. Being positive and optimistic is a great way to contribute to the workplace atmosphere while providing excellent customer service. "I learned the value of two jobs, and one having a commission based on good service," said John Haliburton, Senior Associate Manager at Sun Life Financial in Edmonton, Alberta. "I lived off tips and my paycheque went toward basics and school."
Dedication counts. Peter Pearson asked his mother if he could sell books she had already read when he was eight years old. Armed with a stack of novels, Pearson headed up and down his street attempting to offload them for $1 or $2 apiece. "I only sold one. Feeling defeated, I glanced up on that hot summer day and realized there were tons of other streets and I had not knocked on those doors," said Pearson, a Sun Life Financial advisor based in Squamish, British Columbia. "So off I went all afternoon knocking on what felt like hundreds of doors. I ended up selling all of the books. I think I made $10. I learned that even when I felt defeated, there was still opportunity in business. I just needed to raise my head, see it and work hard!"
Don't be too afraid to make mistakes. When reframed, mistakes are one of the strongest learning opportunities out there. At 12, Alicia Marie Stevens took a babysitting course and learned quickly that if she was good at it, she could make more money. "Money was freedom and I learned to leverage my value for higher babysitting fees. I also learned $140 for jeans was not worth it after a bad babysitting job!" said Stevens, Life & Wealth Specialist at the Cooperators in Sydney, Nova Scotia.
First jobs are a great way to start a conversation about money with clients, and even with your kids. What did you learn from your first job?
This article is provided for general informational purposes only and should not be considered specific financial advice. For advice specific to your circumstances, please speak to the appropriate tax, investment or insurance adviser.