Is beta smart enough for you?
---
By: Kathrin Forrest, M.A., CFA
Portfolio Manager,
Sun Life Global Investments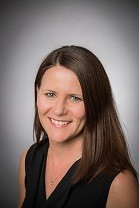 No matter which way we turn, we are being cautioned to brace ourselves for years of lower-than-average returns. How low, exactly? And more importantly – what can be done about it?
In its 2016 Projection Assumption Guidelines, the Financial Planning Standards Council estimates an annualized return of 5.19% on a medium- to long-term basis for a portfolio holding a 50/50 mix of global developed market stocks and fixed income securities. After accounting for inflation, we land at around 3%, and that's before fees. Now let's consider some volatility around this average, and it may be tempting to throw in the towel.
But let's take a step back for a moment. After all, we don't necessarily invest to earn market returns; rather, we invest to achieve certain outcomes, such as income generation for retirement or the funding of large one-time expenses. Market returns may get us there, but what if our objectives and constraints call for a smoother ride or a higher expected overall nest egg? That's where active management can make a difference.
Active managers generally aim to generate returns above those of the broad market (alpha) and/or to reduce risk, either relative to the market (beta) or in absolute terms (standard deviation). Let's say a 60/40 active portfolio similar to the one above generates a return of 6-8%, which has been the recent historical range according to data from MercerInsight®. If alpha generation accounts for, say, one percentage point of that, it may not be so critical. But as we face lower return expectations, the same percentage point may have a substantially higher relative impact. Further, from a risk perspective, some investors may be comfortable if their portfolios fluctuate with the market while others may prefer more consistent returns.
 
Okay, that all sounds great – of course I'll take higher expected returns with lower risk. There is no free lunch though – in fact, there may be no lunch at all. In order to achieve better risk-adjusted returns after fees, we need to find skilled managers that can generate the desired outcome, and we require market conditions that allow these managers to apply their skill.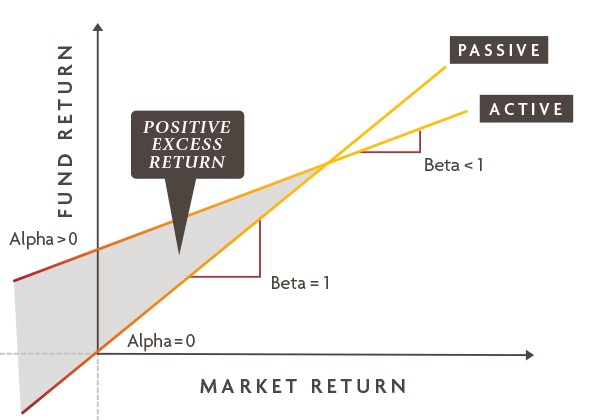 Chart: Sun Life Global Investments. For illustrative purposes only.
Graphing investment strategies: active vs passive
This is one industry-recognized way to illustrate the relationship between sample active and passive investment strategies in the context of market conditions.
The lines are generated by regressing active and passive managers' returns on the benchmark. The beta adjusts for the risk. The alpha is the intercept. The passive line intersects the x axis (Market return) and the y axis (Fund return) at 0 and travels up and to the right with a slope, or beta, of 1. For every unit of market return (loss), the passive fund delivers an equivalent unit of fund return (loss). In this illustration, the active manager generated positive alpha and reduced exposure to market risk. So we start our active line above 0 on the Fund return axis to represent the positive alpha. Then we draw it up and to the right, but with a slope of less than 1 to represent the lower beta.
Breadth and depth of alpha sources are among the key areas that help us understand which market conditions may be supportive of alpha generation for a particular manager, and which ones may not.  We should also look at appropriate risk management tools that allow managers to take active positions where they have skill and avoid them in areas where they don't.
If we take a look at historical data across major asset classes for active managers' track record in this regard, there are three observations that stand out to us. (The methodology and data source for the following analysis can be found in the "Methodology" section below.)
First, over longer periods, we find strong evidence of alpha generation by the median manager in all major asset classes except U.S. equities. For example, within Canadian equities, annualized alpha over rolling 10-year periods, from 2006 to present, was as high as 3.0% (and always positive). This highlights that active managers have indeed been able to navigate Canada's concentrated equity market and generate index-beating returns, generally without taking on more market or absolute risk. It also indicates that we should be mindful of structural factors such as market depth, liquidity, regulation and transparency within an asset class as we consider active management.
Second, looking at shorter periods, we observe that alpha generation and other key return and risk features within an asset class can vary substantially through time. For example, in Canadian fixed income, rolling 1-year median manager alpha over the past 10 years has fluctuated between -1.7% and +3.3%. When evaluating opportunities within the context of today's uncertain interest rate environment, we need to be mindful of key features of the Canadian fixed income market, such as concentration in relatively low yielding government issued bonds. Skilled managers may be able to balance out the risk profile by actively managing interest rate exposure, or by focusing more on corporate and foreign bonds, which may offer higher yields as well as act as a buffer to interest rate changes.
Key points
Future market returns are likely to be lower than usual – get used to it
Higher market returns aren't necessarily the answer for every investor – don't lose sight of the specific objective and risk profile
An active investment strategy is one way to meet the challenge of low market returns
Lastly, there is material dispersion between top and bottom managers in metrics such as excess return, alpha, beta, standard deviation, as well as upside and downside capture. In other words, managers at the top of their game outperformed weaker managers by a significant margin, highlighting the importance of careful manager selection in reference to the desired outcome. Revisiting U.S. equities, we observe that top quartile managers have generated positive alpha over the past 10 years.
This all suggests that a flexible approach in selecting active and passive managers as well as in selecting investments across asset classes can help create value. This may matter more than ever as we face modest expected future returns.
Free lunch? More like hard work, but it sure sounds smart to us.
Methodology: Data source is MercerInsight®, accessed October 28, 2016. We analyzed the following asset classes using the respective pooled fund survey (PFS) universes: Canadian Fixed Income vs FTSE TMX Canada Universe Bond Index; Canadian Equities vs S&P/TSX Composite Index; U.S. Equities (for Canadian investors) vs S&P 500 in C$; International Equities (for Canadian investors) vs MSCI EAFE in C$; Emerging Markets (for Canadian investors) vs MSCI EM in C$. For each comparison, we reviewed the following metrics using rolling 1-year and 10-year periods ending September 2016, with monthly calculations: Beta, Alpha, Downside Capture Ratio, Upside Capture Ratio, Excess Return and Standard Deviation.
Results generated by MercerInsight® are hypothetical and are not intended to project past or future value of actual investments or holdings. In no event shall Mercer or any of its service providers be liable to any persons or entities for reliance on any data contained in MercerInsight®, the results of any analysis of, or any conclusions drawn from, the data supplied in MercerInsight® or any report prepared by a user that includes data and analyses from MercerInsight®. Past performance is not a reliable indicator of future performance. You should not rely on past performance to make investment decisions.
© Sun Life Global Investments (Canada) Inc., 2016. Sun Life Global Investments (Canada) Inc. is a member of the Sun Life Financial group of companies.