Illuminating the arts and personal finance
By Rick Headrick, President, Sun Life Global Investments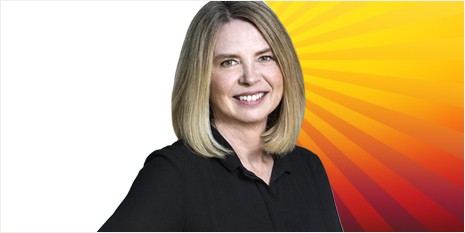 Diane Quinn is Chief Creative Officer of the Cirque du Soleil Entertainment Group, where she oversees the creation of shows, production and innovation activities through C:Lab globally. Diane is passionate about live entertainment and has spent more than two decades crafting, seeing, reviewing and managing various art forms on six continents - though Antarctica has eluded her.
Sun Life Global Investments has been the proud presenting partner of Cirque du Soleil in Canada since 2016. We sat down recently to discuss leadership, lessons in money management and what it means to have true financial flexibility.
Rick: What was your first job?
Diane: My very first job was on a farm. I biked to work and picked fruits and vegetables. The worst were the tomatoes and cucumbers; they were my nemesis. But it paid off because that farmer also owned a grocery store. I eventually became a cashier, and then a head cashier when I was 15. It was a good early lesson in money management: understanding what things cost, physically collecting money, balancing the cash at the end of the night and learning how to read a journal strip from the cash register. I was paid in cash once a week in an envelope – which was another learning experience. If you didn't manage that cash you had in your hot little hand, you weren't going to have money to last until the end of the week or to put into a bank account. I learned to stretch things out.
Rick: Starting out, what was your first big splurge?
Diane: My first big splurge was purchasing ice wine. And that's when it was the German spelling "eis." I was working a temporary job in First Canadian Place downtown Toronto and there was this teeny, tiny shop I used to walk by. I was just learning about wine – I must have been 19 or 20 – and at that time you had to order it in bulk in advance. Each bottle at the time seemed enormously expensive – like $20 – and I thought it was just the most grown-up thing. Of course, today ice wine is available everywhere all the time and it's one of Canada's specialties.
Rick: How do you balance the creativity of your career and the business of managing your personal finances?
Diane: I work on a personal level with a financial advisor and an accountant to handle taxes on both sides of the border. I'm also lucky to have a husband at home who loves spreadsheets. Every month we monitor a budget and calculate our net worth. I have less anxiety around tax season working with professionals. Working with an advisor has helped me immensely. I have someone I really trust, who understands my working life and lifestyle. That takes a great deal of pressure off me.
Rick: What was the best money advice you ever received?
Diane: I would say probably two things. One comes from a great book my dad gave to me, The Wealthy Barber. Pay yourself first. The second, which I believe is difficult for some people, is pay off your credit card in full each month. Money is not complicated unless you make it complicated. It sounds like a cliché but it's true. Maybe you learn that the older you get.
Rick: When thinking of the feats of balance and gravity pulled off every day by Cirque du Soleil, I'm fascinated by the idea of applying the concept to money. What does financial flexibility mean to you?
I go back in time to that moment of my dad giving me a copy of The Wealthy Barber. When you're young, perhaps you don't pay as much attention as you do when you've been in the workforce for a while. Save your money: I heard that from a very young age, and I really do appreciate that now in my dad. This really has benefitted me because now I have choices. Flexibility now for me means options. I can splurge on things now. I can splurge on the ice wine. More often than not, I don't splurge. Part of that flexibility is you know how hard you've worked to earn that money and now you get to decide what to do with it. I live within my means.
Rick: What was your best investment?
Diane: For me, this relates to art. I saved up for a Doris McCarthy painting. I fell in love with her work early on. She graduated from the University of Toronto at 80 years old and I happened to be in the same graduating class at 20. Doris painted up until her 90s in the Group of Seven style. I remember I was so nervous going into the gallery in Toronto but I loved this particular painting, and I bought it for $1,500. It's increased in monetary value but for me it's really an investment in beauty.
Rick: What advice would you give a younger version of yourself?
Diane: Try everything. Say yes – just say yes. And the reason for that is, you just never know where that might lead. That's actually one of my philosophies, and I believe it's part of the reason I'm here at Cirque du Soleil. I think it is a lot of the reason for people's success in whatever industry they are in. Try everything.
What does retirement look like to you?
Diane: I feel the concept of retirement is an odd one today. I assume most people like the idea or notion of it, but in reality most people think about continuing to work. We're healthier now, we think about aging differently, and work plays a big role in who we are as an individual. Yes, I'm saving, I just don't know when the date will be. There's no real magical retirement age anymore. I love what I do and I know I enjoy it too much to consider visualizing when I would stop.
This article is provided for general informational purposes only and should not be considered specific financial advice. For advice specific to your circumstances, please speak to the appropriate tax, investment or insurance adviser.