How do we stand apart?
To answer that question, imagine if you had someone looking out for your financial future every day.
That's precisely what we do. Whether you're saving for the short term, investing for the future or creating an income stream, we have the products and strategies that can help.
To manage risk, some of our products even employ many of the same strategies used by major pension funds.
What does this mean for you? Simply this: you can invest confidently knowing that our managers are actively engaged, adjusting portfolios and managing risk – always with an unbiased commitment to helping you reach your investment goals.
We bring the world to your portfolio
Building wealth today requires global expertise. And Sun Life Global Investments (SLGI) is part of the Sun Life group of companies, a global asset manager with over $1 trillion under management, with offices in nearly 20 countries. At SLGI, we bring together the strength of one of Canada's most trusted names in financial services with some of the best asset managers from around the world to deliver a truly global investment platform.
Let's talk about risk
There are many dimensions to risk, inside and outside of your portfolio, including the possibility that you could outlive your money. This "longevity risk" also comes at a time when the responsibility for financing retirement is increasingly falling to individuals.
This leaves little room for error in your retirement plan. But you can invest knowing that we consider the impact of longer retirements as we balance risk and returns in our investment strategies.
Sun Life Granite Managed Portfolios: pension-like focus on risk
Pension plans focus on managing risk. With Sun Life Granite Managed Portfolios, you work with your financial advisor to determine your risk threshold and choose a portfolio, ranging from conservative to growth. Our portfolio managers take over from there with a pension-like strategy – monitoring the portfolios for risk and opportunities to maximize return potential.
More choice with our sub-advised funds
No single company can be the best in every single investment category. That's why we offer a broad lineup of mutual funds, sub-advised by carefully-chosen domestic and international investment managers. This enables us to provide a cost-effective, well-curated list of investment options to you.
Consider the value of advice
The most important advice we can give you is to work with a financial advisor. Why? For one, evidence clearly shows that households with an advisor have greater net wealth than those that don't.1 And that's why we stand shoulder-to-shoulder with advisors, offering the products and strategies they need to help you plan for your financial future.
Growth in financial assets over time of households that received advice compared to those that did not receive advice.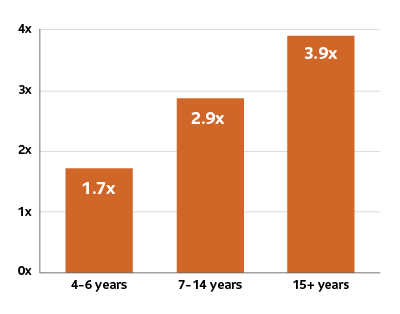 1Source: The Investment Funds Institute of Canada, The Value of Advice Report 2012. CIRANO: The Gamma Factor and the Value of Financial Advice (2016.)