Sun Life Global Investments empowers communities to live their brightest and best lives. We've teamed up with partners that offer strategic alignment with our brand and business objectives.
Presenting Partner of Cirque du Soleil in Canada
For years, Sun Life Global Investments has brought clients best-in-class investment managers. Now, we're partnering up with the best in the performing arts.
We are proud to be the Presenting Partner of Cirque du Soleil® in Canada and will be helping to illuminate the stage for this year's spectacular shows AMALUNA™, ALEGRIA™, AXEL™, CORTEO ™, CRYSTAL™ and LUZIA™.
Brilliantly Invested
An investment company and the arts? Why? For Sun Life Global Investments and Cirque du Soleil, we identified shared values at the core of our respective businesses.
We believe in preparation, discipline and risk management to bring to light the best opportunities for our investors, partners and the communities in which we do business.
Watch as these values come to life in a four part video series, Brilliantly Invested. To learn more about our shared values, read the full article.
The Boys and Girls Club of Longueil, Quebec visit Cirque du Soleil's Headquarters
We invited 20 young people from the Longueuil Boys and Girls Club to become performers for the day at an exclusive day camp at Cirque du Soleil's global headquarters in Montreal. This was a unique opportunity for young members of the club to interact with Cirque du Soleil trainers. The experience supports our commitment to build sustainable, healthier communities for life. Watch as we bring this homegrown success story to life for young members of the community.
Cirque du Soleil contest winner
Congratulations to Jessica Ma, our Nation of Illumination contest winner. Join Jessica on her exclusive behind the scenes tour as she experiences the exhilarating show, LUZIA™ in Calgary.
---
Advocating for diversity in the workplace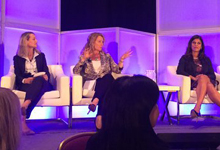 For the second year in a row, we sponsored and participated in the Women in the Financial Industry conference hosted by hosted by TC Media. Events were held in Vancouver, Montreal and Toronto. This year's theme, Creditworthy: Navigating Success as a Woman in the Financial Industry explored common challenges and strategies for success as a woman in the financial industry.